Worldr for WhatsApp
Continue using WhatsApp to communicate with customers in a compliant way. No additional apps needed.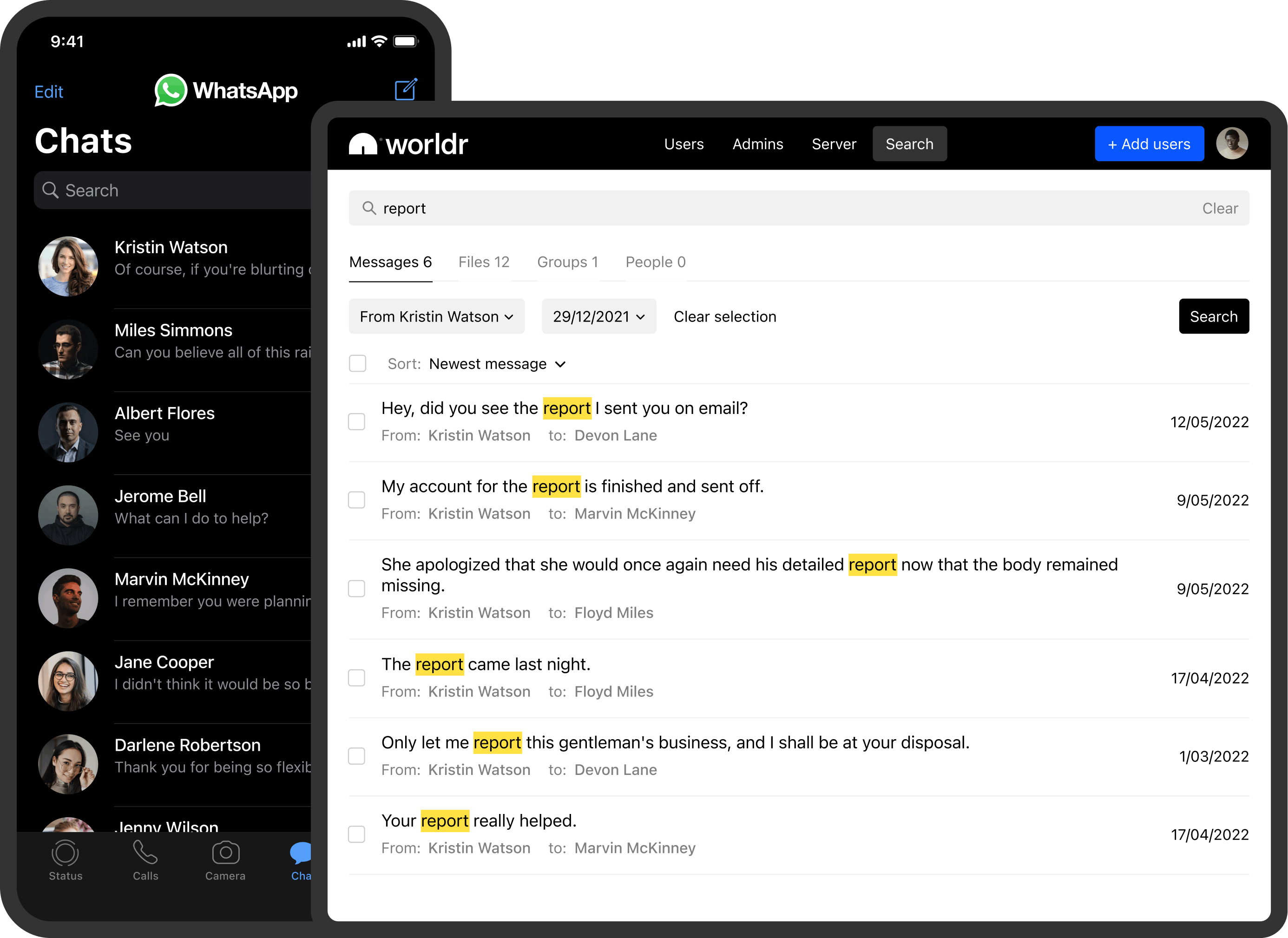 Compliance regulations demand more from WhatsApp communications
The Investment Advisers Act of 1940, a U.S. federal law, defines the roles and responsibilities of a registered investment adviser (RIA):
"Under Rule 206(4)-1(a)(1), RIAs are prohibited from using testimonials in their investment advisory advertisements. As such, the SEC expects firms to ensure that their RIAs will not be involved in using WhatsApp to create and use "favorable" testimonials or share positive testimonials to their contact lists."
Alongside the FCA, MiFID II – the Markets in Financial Instruments Directive II – came into effect across all EU member states in 2018:
FCA SYSC 10A "This includes increased use of unmonitored and/or encrypted communication applications (apps) such as WhatsApp for sharing potentially sensitive information connected with work."
The FINRA Rule 2090 "Know Your Customer" states that financial advisers must know the "essential facts" concerning every customer before offering any investment advice.
"FINRA Rule 4511 requires that FINRA members make and preserve books and records for a period of at least six years, and do so in a form and media that comply with SEA Rule 17a-4."
Worldr offers the same user experience with compliance by design
Retain records for compliance
Archive WhatsApp messages so compliance teams can access information for regulatory purposes.
Search, retrieve and capture messages
Run searches via keywords, filter conversations and export data. Capture data across chat, files and voice.
Meet SEC, GDPR and FINRA standards
Avoid hefty fines from regulators across the US and UK with a solution that meets compliance standards.
Patented key management for database encryption
Database transparently encrypted utilizing Worldr's patent-pending unlocking mechanism.
Seamless implementation in minutes
Employees scan a QR code, enable the solution and carry on with their day. Effortless and simple.
How Worldr for WhatsApp works
Worldr sits on top of your existing WhatsApp deployment so you can continue using the app you love without any disruption.
Trust Nothing, Verify Everything. Worldr delivers a Zero Trust approach to secure communications.
Worldr is built on a Zero Trust framework where every access point is continuously vetted to secure your data. Learn more about how we help to reduce security complexity, save money, and protect your most important digital assets with a zero trust architecture.
Learn more about Zero Trust
Find out how Worldr helps keep Kingdom Trust's financial data secure and compliant.
"Worldr offers us data security for our most sensitive customer data. An effortless implementation, we now feel protected against third-party threats."
Read Now
Industries that rely on Worldr
Empowering organizations to ensure compliance, privacy and security.
eBook
Moving to Zero Trust Security with the US Government
eBook
Moving to Zero Trust Security with the US Government
Download eBook
eBook
Decentralize the risk - strengthening cybersecurity in Finance
eBook
Decentralize the risk - strengthening cybersecurity in Finance
Download eBook
eBook
Managing Risk & Compliance for Healthcare and Pharmaceuticals
eBook
Managing Risk & Compliance for Healthcare and Pharmaceuticals
Download eBook
eBook
Never Trust, Always Verify: Zero Trust Security for Communications
eBook
Never Trust, Always Verify: Zero Trust Security for Communications
Download eBook
Case Study
Ensuring Financial Data Security & Defense for Kingdom Trust
Worldr for WhatsApp
Continue using WhatsApp to communicate with customers, employees and stakeholders in a compliant way