Worldr for Microsoft Teams
Protect corporate and client Teams communications so no third-party can access it.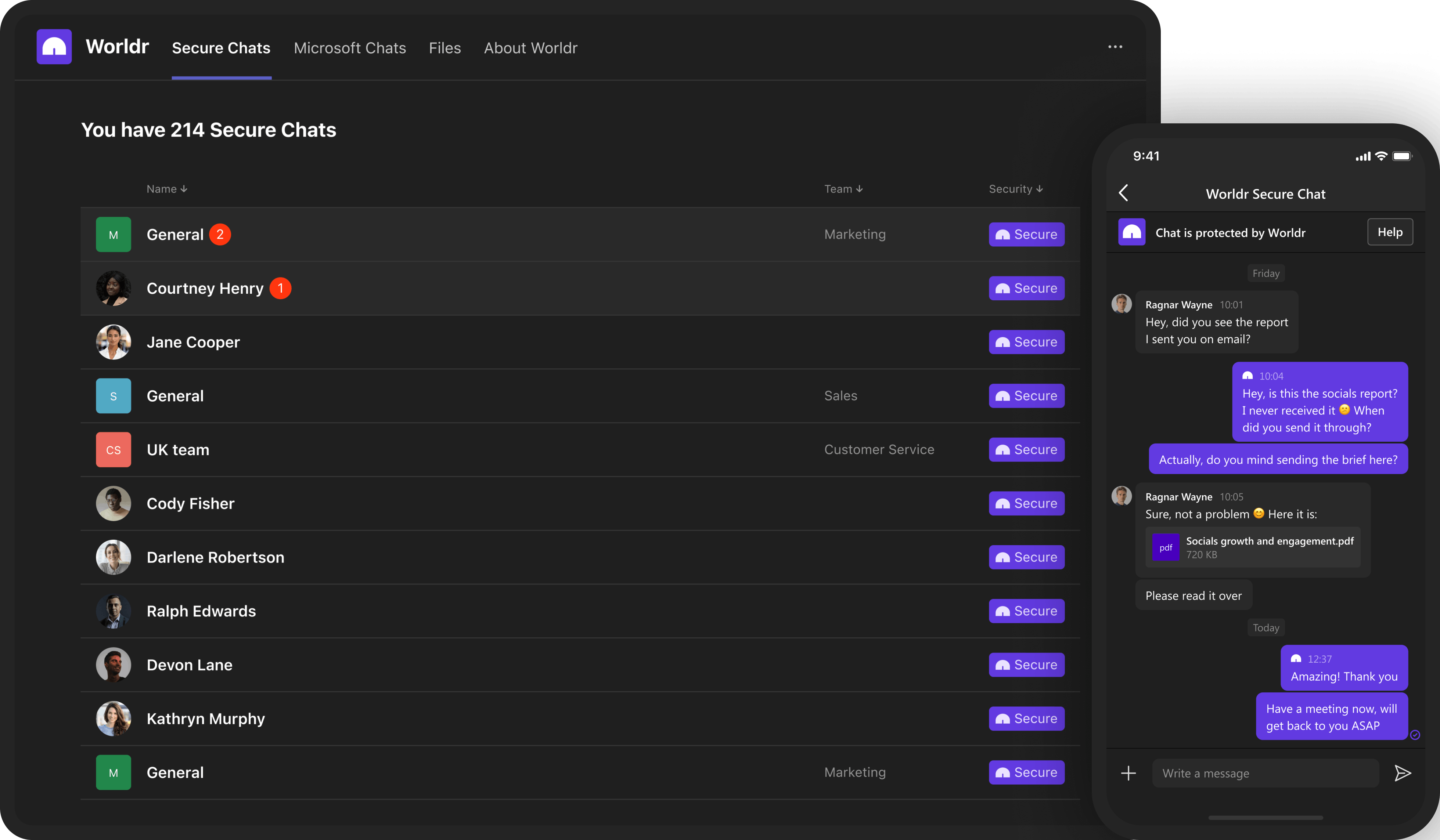 Strengthening cybersecurity for Microsoft Teams
Seamless integration in minutes for any size company across the globe
Ensure all access points are continuously vetted with Zero Trust security
Protect against third-party threats by owning and controlling encryption keys
Store your data anywhere in the world to meet regulatory requirements
Secure your critical data, without leaving the platform you love
Worldr defends the data you share in Microsoft Teams from external breaches while prohibiting outside organizations from exploiting your most sensitive digital assets. It can be utilized in any environment, whether that be cloud based or on-premise; our lightweight architecture can be deployed in minutes for any size organization.
Book a demo
How you benefit using Worldr for Microsoft Teams
Ownership of Encryption Keys
Ensure full ownership of data so no one, not even Microsoft, can access it. Messages, user details, and metadata are stored in a database protected by a transparent data encryption layer while encryption keys are stored in Hashicorp Vault.
Store your data anywhere in the world based on compliance, legal or regulatory requirements. Adhere to sector specific data transfer and processing regulations and meet mandates enforced by various countries to ensure data sovereignty.
Implement Worldr for Microsoft Teams in minutes whether your organization has 30 or 30,000 users. A single command line allows you to apply added security to your communications without the need for an overly complicated install.
Worldr utilizes Prometheus and Grafana to provide robust system metrics while Alertmanager is enabled to support alarms based on those metrics. Leverage a premium monitoring stack to ensure all systems are running smoothly.
Compliance teams can search data and conversations for keywords, participants, and other relevant data to validate appropriate use and meet regulatory requirements to log work-related text conversations for periodic audits.
Deploy Worldr for Microsoft Teams into any environment whether it be cloud, on-premises hardware, data center or virtual hosting. Granularity of the deployment can also meet any specific geography or jurisdiction requirements.
Trust Nothing, Verify Everything. Worldr delivers a Zero Trust approach to secure communications.
Worldr for Microsoft Teams is built on a Zero Trust framework where every access point is continuously vetted to secure your data. Learn more about how we help to reduce security complexity, save money, and protect your most important digital assets with a zero trust architecture.
Learn more about Zero Trust
What will a data breach really cost your organization?
How Worldr for Microsoft Teams works
Own your data so not even Microsoft can access it. Worldr sits on top of your existing Teams deployment to protect your most sensitive conversations

Find out how Worldr helps keep Kingdom Trust's financial
data secure.
"Worldr offers us data security for our most sensitive customer data. An effortless implementation, we now feel protected against third-party threats."
Read Now
Who we empower
We empower organizations to centralize control of their data because digital transformation demands data security.
New integrations at your fingertips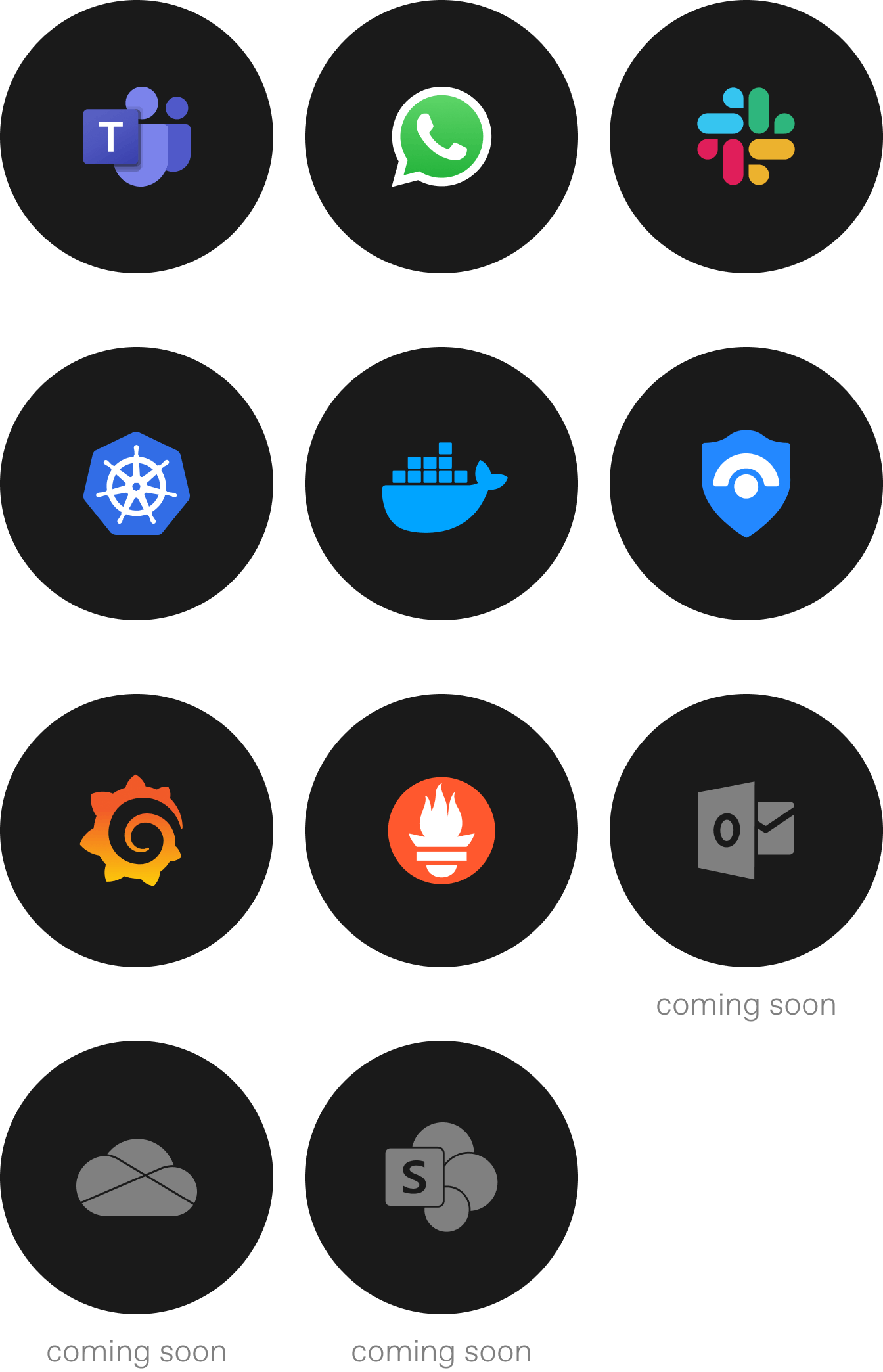 eBook
Moving to Zero Trust Security with the US Government
eBook
Moving to Zero Trust Security with the US Government
Download eBook
eBook
Decentralize the risk - strengthening cybersecurity in Finance
eBook
Decentralize the risk - strengthening cybersecurity in Finance
Download eBook
eBook
Managing Risk & Compliance for Healthcare and Pharmaceuticals
eBook
Managing Risk & Compliance for Healthcare and Pharmaceuticals
Download eBook
eBook
Never Trust, Always Verify: Zero Trust Security for Communications
eBook
Never Trust, Always Verify: Zero Trust Security for Communications
Download eBook
eBook
Ensuring Financial Data Security & Defense for Kingdom Trust